When:
January 28, 2018 @ 4:00 pm – 6:00 pm
2018-01-28T16:00:00-07:00
2018-01-28T18:00:00-07:00
THIS IS A PRIVATE EVENT FOR STEPHANIE'S BIRTHDAY

"Acrylic Pour" aka dirty pour – Let's learn  this fun and addicting technique in the rich colors of your choice! As always, we will have music on to inspire you!   We will give you a small 8 X 10 or 12X12  canvas to practice and then a second  8X10 or 12 X 12 canvas.  We will provide all the supplies and teach you the technique.  Both canvases are only $40!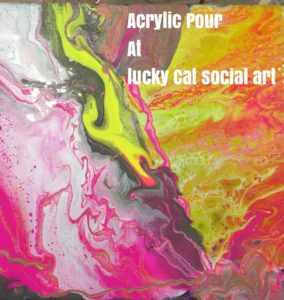 With purchase of this class, all art supplies will be provided.  NO experience necessary.  Anyone can do this! Please Note:  You must return another time to pick up your projects.  Times and dates will be provided at the time of the class.
Cost is $40 for two canvases 
You may bring your own food, beer, wine or soft drinks.
Drinking water, plates and utensils and glasses and ice buckets are provided for your use.
DOORS OPEN AT 3:30 pm so that you may get settled and mingle and instruction begins at 4 pm.
We are located in Plaza Escondida on the South East corner of Oracle Rd and Magee Rd.
Our address is 7872 N. Oracle Rd Oro Valley, AZ 85704
Our studio phone number is (520) 422-2000
Studio Manager michelle@luckycatsocialart.com
YOUR CONFIRMATION WILL BE EMAILED TO YOU. YOU DO NOT NEED TO PRINT YOUR CONFIRMATION.
YOU MUST REGISTER TO SECURE YOUR SPOT. 
BECAUSE WE ALLOW BEER AND WINE TO BE CONSUMED AT OUR STUDIO, WE RESERVE THE RIGHT TO CHECK ID.  NO ONE UNDER 21 MAY CONSUME BEER OR WINE AT OUR STUDIO.  WE WILL NOT ALLOW ANYONE APPEARING TO BE INTOXICATED TO CONSUME ALCOHOL AT OUR STUDIO.
If you must cancel, please do so 24 hours in advanced via phone or email for a credit.  Sorry no refunds.